Saturday, July 19
I was flipping through
Modern American Usage
and the pages fell open to the following:
"icecap. Submarine navigation in high latitude waters has involved thousands of miles of sailing under the broken and shifting field of floes known to explorers and students of the Arctic as the polar pack. For some reason many journalists, including editorial writers, choose to refer to it as the
icecap
-- properly the name of the accumulated glacial ice sheet that covers some northern lands to an immense depth."
Oh, it goes on and on, which is why I love to read this kind of stuff, but I found the beauty part here, in the examples:
"A magazine describes an elaborate commercial amusement by saying: 'Passengers... make a realistic underwater journey through coral gardens, then descend to greater depths to view the wrecks of old treasure galleons and pass under the polar icecap.' "
That would be the late, lamented
Submarine Voyage
they're talking about.
I also just finished re-reading Jules Verne's
20,000 Leagues Under the Seas
(yes, "Seas," plural), in a relatively new translation, and I noticed the resemblance to a certain "elaborate commercial amusement." The following quotes are taken from the
Gutenberg Project
's e-text version of
20,000 Leagues
and from a transcript of the Disneyland ride in
The E-Ticket magazine
. Another transcript of an earlier version of the ride can be found
here
.
***********************
SUBMARINE VOYAGE
"There are legends, told by ancient mariners, of ships being crushed into splinters by the powerful tentacles of giant squid. But of course these stories have no basis in fact -- merely tall tales that should be classed as fiction..."
20,000 LEAGUES
'Consequently, the feats of krakens or other monsters of that ilk must be relegated to the realm of fiction.'
-- Professor Aronnax (to Ned Land)
***********************
SUBMARINE VOYAGE
"Captain! Giant squid dead ahead!"
20,000 LEAGUES
"It was a squid of colossal dimensions, fully eight meters long."
***********************
SUBMARINE VOYAGE
"And speaking of giants, the giant clam has a fluted shell that can weigh up to a quarter of a ton."
(500 lbs)
20,000 LEAGUES
"I estimated the weight of this giant clam at 300 kilograms."
(661 lbs)
***********************
SUBMARINE VOYAGE
"These crumbling heaps of stone betray the hand of man."
20,000 LEAGUES
"Observing the seafloor, I saw that it swelled at certain points from low bulges that were encrusted with limestone deposits and arranged with a symmetry that betrayed the hand of man."
***********************
There are more, but those are the most blatant.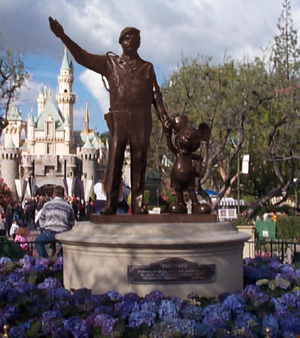 This
was published shortly before the Iraq war.
'Mickey Mouse Peace Plan' urged

Canadian Press, Mar. 12, 2003

TORONTO -- A Middle Eastern Disney World would ensure lasting peace in Iraq by easing fear and anger among children, according to Dr. Deepak Chopra, an American self-help guru, the National Post reported yesterday.

The idea is one of 10 suggestions Chopra outlines in an essay that is to appear today in several European newspapers. He also suggests free access to CNN news and MTV music videos would encourage Iraqis, who face the imminent threat of a U.S.-led attack to unseat their president, Saddam Hussein, to "feel like part of the world."

"These children are in enormous peril, not just from bombs but from cultural isolation," Chopra says. "Let children breathe free air at a place where fun and joy abide (Disney World). What better way to reduce fear and anger?"

But a military analyst said the "Mickey Mouse Peace Plan" is doomed to failure because Saddam would divert profits from the theme park to fund his totalitarian regime and probably put a statue of himself beside Mickey Mouse. Moreover, the park would be unaffordable to most Iraqis, said John Thompson, director of the Mackenzie Institute, a military think-tank.
The famous
Florida Film
, in which Walt Disney outlines his plans for EPCOT. This film was shown to members of the Florida legislature and the press. Amazing corporate propaganda -- essentially it was an ad in which Walt sold Utopia to Florida, at the low, low cost of simply granting the Disney Company its own fiefdom. (A famous quote, often cited in articles about EPCOT, is Walt's response to Ray Bradbury's suggestion that he should run for mayor of Los Angeles: "Why would I want to be mayor when I'm already king?")
This is also Walt's last film appearance; it must have been shot around the time he learned he had cancer.
Friday, July 18
"He breathed short,
his face wore a placid
satisfied expression,
and at intervals he
faintly murmured,
'Poop-poop!' "

-- Kenneth Grahame, The Wind in the Willows
Disney auctioned these used cars from
Mr. Toad's Wild Ride
:
Mac Badger
and
Moley
. Bidding started at $480, final bid for MacBadger - $3,550.00, Moley - $2,550.00. Pretty good for cars with no wheels.
Other Disneyland cars:
Lenny the Cab
(with a starting bid of $4,800, and closing at $5,411.61 -- and it wasn't really a ride vehicle, just a photo-op!),
Donald Duck's parade car
(only one bid, $4,800),
Goofy's parade car
(kind of a nice little hot rod, really, ending bid: $8,343.97) and
Aladdin's parade car
(ending bid $7,387.30 -- it shot up about two grand in the last fifteen minutes).
I liked Disney's disclaimers:
CONDITION: Although in good overall condition, this theme-park vehicle exhibits wear and minor damage consistent with age, regular long-term use, shipping and storage, including but not limited to torn upholstery and scratched, scuffed and/or chipped paint in spots. Designed for operation only under strictly supervised theme-park conditions, this vehicle is not intended for street use. Most of the vehicle's operating machinery has been disabled.
Meaning: It doesn't run.
WARNING: The item offered for sale is a decorative collectible for display only and is not intended for any other use or purpose, commercial or otherwise. It should not be altered or modified. Materials of construction, including surface coatings, may contain hazardous materials that could create potential health concerns when disturbing or altering the surface or underlying materials — e.g., machining, sanding, drilling, paint stripping, or cutting. No alterations or modifications that could disturb surface or underlying materials should be conducted without prior consultation with a hazardous-materials expert.
Meaning: Don't try to make it run.
So come on down, friends, to Ralph Spoilsport Motors -- take the Fantasyland exit, follow the second car to the right and drive straight on 'til morning!
(Note: These eBay links will expire in a couple weeks.)
Wednesday, July 16


MGM DIZZEE WORLD is one of Asia's Finest Amusement Parks in the Hospitality Industry located at Muttukkadu in Chennai, INDIA. We believe some values brook no compromise like Qualitative Entertainment. That is why on each of our rides we carry a seal of gurantee of fun and entertainment, an affirmation of our commitment to give you the best. We have introduced the best and latest technology, redesigned by Specialised Architects from Italy so as to create phasewise ambience of various types in the field of Recreation and Entertainment. MGM DIZZEE WORLD has been set up to inculcate in people of all ages the Spirit of Adventure. Thrill and Scientific Inquistions and at the same time provide Recreation and Entertainment.

Tuesday, July 15
Here it is: John Marr's original article on deaths at Disneyland,
Waiting in Line to Die
. This article has been plagiarized countless times, sometimes almost word for word. The amazing thing about it is that it is so complete, and it was written in the early 1990s, before this whole internet thing. Marr was the human google.com -- he sat in front of a microfilm reader, scanned headlines of the Los Angeles Times for the words
"Disneyland," "injury"
and
"death,"
and then wrote the article for his zine,
Murder Can Be Fun
.
If you arrived here by using the search terms
"Disneyland," "injury"
and
"death,"
reflect for a moment on Mr. Marr's acomplishment. Kids today...

Florida gives The Mouse whatever he wants.


Here is the strange tale of street-legal vehicles made into amusement ride vehicles and then converted back into street-legal vehicles.

Monday, July 14
stuff i learned from a 70's childhood and an adulthood afterwards

Cultural vibrancy: movies are turned into theme park rides
Cultural health: movies are turned into tv shows
Cultural decline: tv shows are turned into movies
Cultural anarchy: theme park rides are turned into movies

luv, vic



I've posted images of bumper cars made into vehicles you can drive around; here is a vehicle made into a bumper (art) car.

Sunday, July 13
Not all annual passholders are passholes:
Bill Mumy (
Lost in Space,
Barnes & Barnes) tells the following sad story about outsider musician Larry "Wildman" Fischer:
"Larry got the short end of family love. That's the saddest part of the story. His father passed away when Larry was a little boy, and his mother... didn't love him. When Larry had some money, he bought a year pass to Disneyland. He used to call me from the Magic Kingdom all the time. He went there 'to soak up family love.' It touched me in such a powerful way, I can't even begin to describe."
Complete article
here
.